Special STEM Assembly Visitors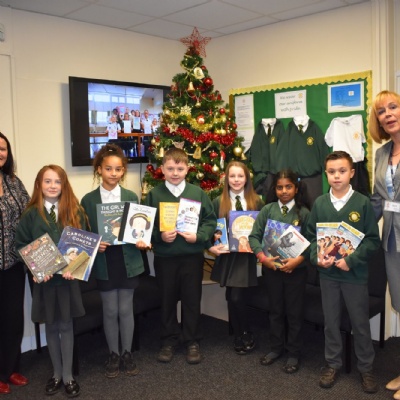 On Wednesday 19th December, we welcomed some special visitors to our whole-school assembly at Keresley Newland Primary Academy.
Joining The Futures Trust on 1st December has opened up many more opportunities for our pupils to become involved in many collaborative partnerships and we were delighted to welcome four visitors from Northrop Grumman to present a special STEM assembly. Northrop Grumman is a factory based at Whitley in Coventry. The company has a strong presence in the U.K. with a heritage spanning nearly 100-years. The company provides avionics, communications, marine navigation systems, unmanned ground vehicle systems, IT systems and software development, aircraft whole life support and airport security solutions.
Northrop Grumman's unmanned ground vehicle business has been established in Coventry for more than twenty years. Today the company designs, develops and manufactures some of the most capable and reliable unmanned ground vehicles available.
The assembly opened with Terri Jones talking about her role in buying parts for the robots and her colleague Eddie Harrison, went on to tell us all about aspects of his technical job in creating the robots. Jack Johal was able to tell everyone about the investment in the technology and the team brought along some examples of controllers and some great canvas prints of different robots to capture the pupils' imagination and interest!
Emma Bisseker helped the children make the connection between the importance of computer coding in design and build of the robots and introduced us all to the fascinating story of Ada Lovelace who started the idea of using mathematics to begin programming for computers as early as the 19th Century. This was such a wonderful example of girls taking part in mathematics and science.
The session closed with a very generous donation of STEM books from some employees from Northrop Grumman for some of our Year 5 and Year 6 children, to give them the opportunity to learn all about the amazing things they can do with science, mathematics, engineering and technology.
The children asked some amazing questions during the assembly which impressed our visitors before returning to their classrooms to spark many discussions, some of which led to the children creating their own designs and thinking about what they would make a robot for and how it could help people. They then set about making model versions of these.
We thank Northrop Grumman for visiting our school and sharing their work experiences, encouraging pupils to engage with STEM subjects in our curriculum and for their very generous donation of books, which will take pride of place in our community school!