Carol Service 2018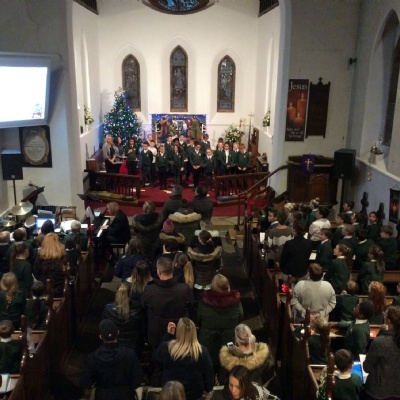 For the first time at Christmas, pupils from Keresley Newland Primary Academy travelled to St Thomas' Church for the school's annual Carol Service. The church was beautifully decorated and the children took their places in the pews; Year 6 in front of the altar.
Families were seated in the aisle to offer a direct view of the children performing at the chancel steps. It was lovely to welcome younger siblings, grandparents and Governors to this special event.
The service opened with a rousing rendition of 'Once in Royal David's City' sung by all. Reception walked beautifully to the front of the church and treated us all to their carol first performed at last week's school nativity production, 'Welcome, this is our Christmas Story'. Everyone remembered their associated actions to the song and all were applauded loudly by the congregation.
Year 1 treated us to a poem called, 'Five Little Reindeer', their clear voices filling the high ceiling before Year 2 joined them for another song from the nativity called, 'Flicker, flicker'.
Two Year 5 children then read, 'The Angels visit the Shepherds' reminding us all of the wonderment of the Christmas story. This was followed by a very jolly version of everyone's favourite, 'Jingle Bells' by Years 3 and 4 before Year 2 readers spoke clearly reading, "Scarecrow Christmas' reminding us of how different Christmas can be in a hot country.
The school choir sang, 'Away in a Manger', demonstrating their confidence as their voices rang out across the church. It was then the turn of Year 6 to sing another popular favourite, 'Silent Night' which was an opportunity for them to showcase their British Sign Language skills developed this term, a very moving performance indeed.
Year 3 confidently delivered, 'The Colours of Christmas' before a clear reading of 'A Christmas Prayer' by Robert Louis Stevenson was performed by Year 6. The staff then moved to the chancel steps as pupils remained in their seats, eagerly awaiting a performance of 'When a Child is Born' by all staff, accompanied by the piano, percussion and a cornet solo.
The Reverend Mark Norris led congregational prayers before a final song for all, 'Love Shine a Light' which was an uplifting end to such a festive service.
St Thomas' Church, as focal point provided such a special place for the school's carol service and every child rose to the occasion, demonstrating excellent behaviour and supportive contributions throughout.
This was very much a collaborative event in the very heart of the Keresley community. My thanks to everyone for taking part and for supporting us.
Mrs F Hims
Headteacher